Directed by Roger Kumble, After We Collided is a sequel of the movie After, an adaptation of the famous novel series After, by Anna Todd. This film portrays two young adults whose life revolves around each other. Even after separation, they somehow manage to get back together every time. Nevertheless, the movie mostly fails to strike a memorable chord with the audience.
Some elements also appear cliched. Its a teen-oriented romance drama here an agressive boy with a traumatic childhood, falls in love with an innocent young girl. The latter helps the former overcome his past terrors, which is the main gist of the story. Much like its prequel, this movie couldn't establish itself as a memorable, emotional watch.
In After We Collided most of the characters fail to give proper meaning and beauty to the plot. The film suffers more as the characters lack any convincing connection amongst each other which will stay with the audience.
The movie deals with themes like love, childhood trauma, abusive relationship, addiction, and a love triangle. They don't however succeed in hooking up the audience till the end. The viewers keep wondering what is the underlying message of the plot. The movie is R-rated and is 1 hour 45 minutes long.
Story of an Unstable Love (After We Collided)
In the opening scene, Hardin Scott (Hero Fiennes Tiffin) narrates his unique love story with Tessa Young (Josephine Langford). He was reminiscing their romantic journey. The story begins post one month of their breakup and the reason behind their separation unfolds gradually. Depressed Hardin is still not over Tessa. He tries to gain her trust back, whereas Tessa starts a new phase of her life, being an intern at a publishing company. In the movie, Roger Kumble attempts to show how fate unites Hardin and Tessa, every time they are drifting apart. But their story of patching up ends up being tedious and repetitive. It's all about pointless misunderstandings, cuss words, impulsive behaviour, unemotional intimate scenes, and communication gap between the two central characters.
There is a clear lack of chemistry between Hardin and Tessa. Consequently, it fails to leave its mark as a romantic movie. No matter how painfully their story is depicted, the audience finds it hard to feel for them. Probably the only thing which will grab attention is the background score. The screenplay lacks any proper direction of the storyline. Regarding cinematography, it is average, none of the scenes and dialogues are worth remembering. They are hollow and lack an emotional kick. Besides the love story, the script also fails to establish a proper background of the characters. There are many scenes and conflicts in the movie which are not really required for the plot.
Central Characters and Their Impact
Tessa Young is a simple, pretty, hard-working, and fun-loving girl. She wants stability and honesty in her relationship, but lacks insight regarding what's good. The side characters warned her about the relationship with Hardin, but she is too adamant to pay any heed. She isn't matured enough to realize the toxicity of her love. Though Tessa acts like she is over Hardin and won't give him a chance again, she ends up falling back into the same toxic loop always. She and Hardin both lack clarity and sensibility reason why their relationship never takes a stable path.
Hardin Scott is an impulsive, insecure teenager, who is immature and possessive, clearing having no visions or goals in life. He is emotional, finds it hard to express himself, but loves Tessa to the extent of doing anything for her. His traumatic past is largely responsible for making him the way he is. Throughout the movie Hardin is doing nothing except drinking, getting tattoos, fighting with people, and chasing his ex lady love. Moreover, his lack of respect for women is evident as he bets on Jamie (Ariel Yasmine) and Tessa. However, he also realizes his mistakes later and apologizes for his actions. Even if Hero manages sometimes to make the audience feel for him with his emotional outbursts, the poor execution of the story overshadows this sentiment.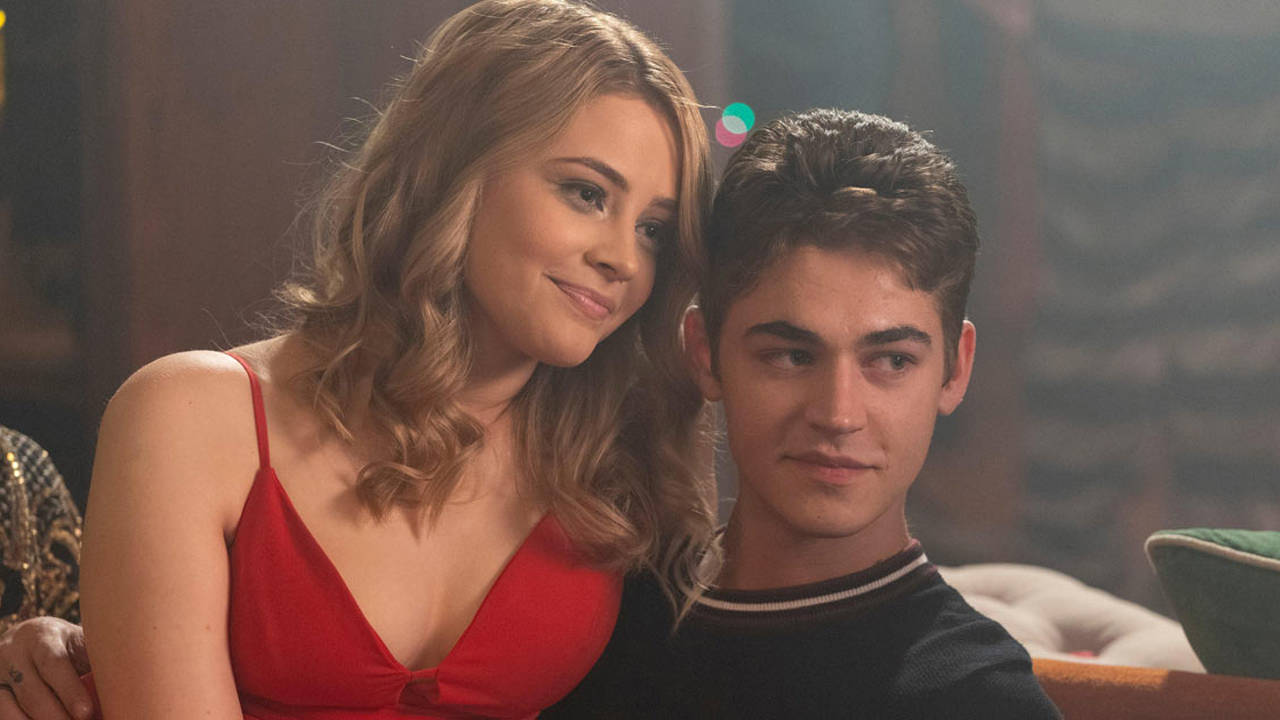 Supporting Characters in After We Collided
In contrast to other characters, Dylan Sprouse as Trevor still manages to stand out a bit with his effortless performance. He is shy, witty, handsome, with a good sense of humour. Being Tessa's co-worker, Trevor soon falls for her. He gets involved in a love triangle that never takes a shape in the movie. Sprouse manages to charm the viewers with his on-screen personality. In contrast to Tessa and Hardin, Trevor is far more matured, reserved, and level-headed. He manages to leave a lasting impression on the viewers who wanted to see more of his chemistry with Tessa.
Hardin's mother Trish (Louise Lombard) makes some meaningful contributions to the plot. She plays a significant part in the reunion of Tessa and Hardin.
Other minor characters like Landon Gibson (Shane Paul McGhie), Kimberly (Candice King), Molly Samuels (Inanna Sarkis), Noah (Dylan Arnold), Jamie (Ariel Yasmine), Carol Young (Selma Blair), and others don't contribute much to the film. Moreover, they do nothing apart from leading to certain occasional drama between the lead pair. These characters are just thrown in the film without a proper storyline, some even don't have any significance.
Conclusion
Fiction's an escape from reality. It's a way that, like, you can live a hundred lives, or even a thousand.

Tessa Young, in After We Collided (2020).
In the end, there is an optimistic conclusion as Hardin and Tessa are together again after many ups and downs. The director hints at a heartbreak for Trevor (Dylan Sprouse) who plans to ask Tessa out for a date. The cliffhanger leaves the audience thinking about the pitiable condition of Tessa's father. All of these indicate a probable sequel to this movie.
In an attempt of being a steamy heartful romance, After We Collided thus ends up being a futile toxic portrayal of how true love prevails at the end. It constantly reminds me of a dysfunctional relationship that is never desirable. The storyline is easily forgettable since the main characters are quite dull and unappealing. Though there are some warm, romantic, emotional moments, on a larger scale the film fails to retain the attention of the audience. Hopefully, the sequel would be a better watch in comparison to the previous two installments.